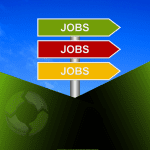 Job Detail
Job ID 26070

Offered Salary 7181

Career Level Manager

Experience 5 Years

Industry Finance

Qualifications Degree Bachelor
Job Description
Role: Project Manager
Salary: $65,000 – $85,000
Industry:  finance, Accounting, IT technology, government
The New York City Campaign Finance Board oversees New York City's small donor democracy program and educates and engages voters via NYC Votes. The CFB has enjoyed a tremendous arc of progress over its 30-year history, and our updated flagship small donor democracy program is a centerpiece of this progress. We eliminate barriers to participation by providing access to the resources New Yorkers need to vote or run for office and amplify the voices of small donors with New York City's small donor democracy program. You would be working with staff and leadership that is mission-driven and committed to continuous improvement for the staff and the public. We provide flexible work hours and environment.
This role will support two major expansions of the agency's work in 2023: the introduction of city-only voting rights for 800,000 immigrant New Yorkers, and an increase in the number of languages we serve, which will grow from 5 to 13 languages, including English. Responsibilities include, but are not limited to:
Establish and foster relationships with assigned CFB staff and external stakeholders.
Conduct research; prepare presentations, briefings, and reports.
Research and partner with vendors to produce new accessible versions of agency collateral,
such as audio, Braille, and audience-specific editions of the Voter Guide.
Supervise the work of vendors and consultants.
Assist with the department's RFP and procurement process; request and review estimates and
tracking expenses against approved budgets.
Develop roll-out plan and oversee deployment into production, including developing a support
plan.
Identify project staffing and resource needs and work with Director of Product Management and
Operations to assign internal staff or vendors to tasks.
Develop accessible versions of print, video, digital, and other materials, coordinating internal
accessibility reviews, conducting research, and obtaining feedback as needed.
Coordinate with design, printing, video and other vendors and report on costs, scope of work,
and performance as needed to inform procurement processes.
Liaise with Language Access team to request and deliver translated versions of materials.
Publish information to the website, working with Website Content Manager and directly
supporting content entry during high-volume periods.
Conduct retrospectives on major projects and suggest process improvements, including
opportunities to use technology to improve workflow and efficiency.
Minimum Qualifications and Requirements
1. A bachelor's degree from an accredited college, including or supplemented by at least twelve-semester credits (or the equivalent of twelve-semester credits) in accounting, auditing, business or public administration, computer science, economics, finance, statistics, graphic design, personnel or human resources administration, user experience design, or a closely related area of study and one year of satisfactory full-time experience in accounting, auditing (including compliance or investigative auditing), business or public administration, business analysis, computer science, database administration, economics, finance, fiscal or economic management or research, statistics, graphic design, personnel or human resources administration, user experience design, or a closely related field;
or
Preferred Skills
Experience managing projects with budgets of $1 million or more.
Experience overseeing digital projects and/or leveraging technology to improve the efficiency
and quality of existing processes.
Experience with all stages of large print projects a plus.
Knowledge of language(s) other than English.
Lived or work experience within immigrant communities.
Demonstrated interest or experience with plain-language writing, accessible formats, or related
best practices to improve the accessibility of educational and communications materials.
Strong project management and organizational abilities with a keen eye for detail.
Able to work well under pressure and effectively prioritize tasks to keep team members focused
amidst shifting timelines and needs.
How to Apply
Internal City Employees must apply through Employee Self-service (ESS), External Applicants must apply through NYC.gov/careers or send a resume and cover letter to resume@nyccfb.info. Note that only applicants under consideration will be contacted.
For more information on careers with the NYC Campaign Finance Board visit our website at https://www.nyccfb.info to access the full listing of job opportunities and to learn more about our agency.
Residency Requirement: New York City residency is generally required within 90 days of appointment.
Please view our main page (www.nyccfb.info) for more information about this role and mandatory requirements to work for the City of New York.
Other jobs you may like